The 2nd Shizuoka Three-University-Partnership Symposium was held, and our research results were disseminated.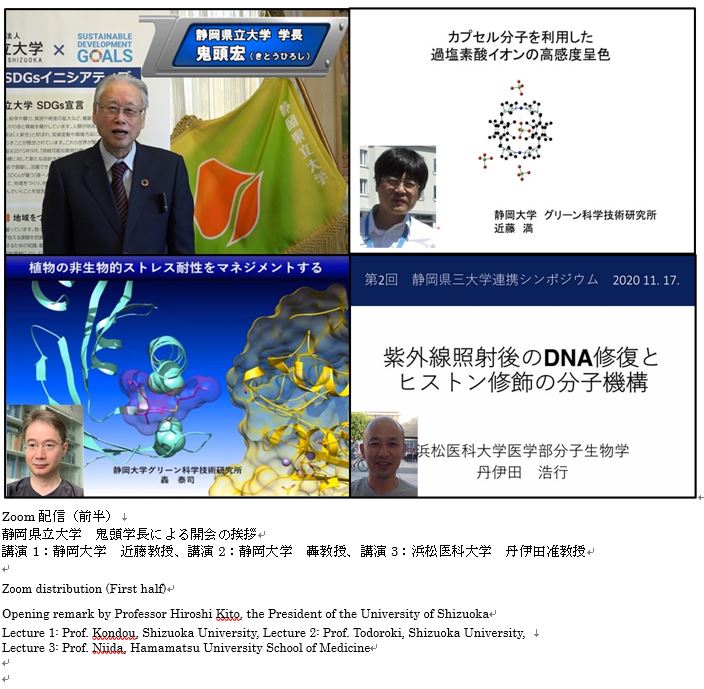 Zoom配信(前半)/Zoom distribution (First half)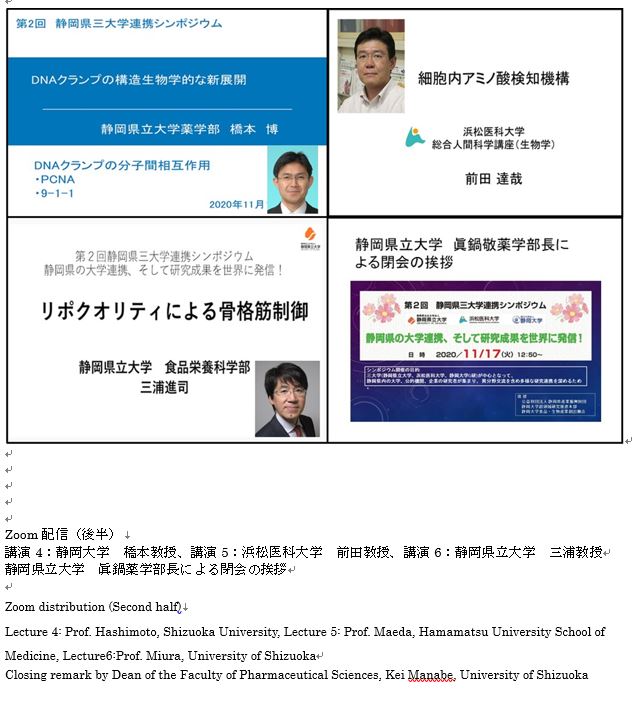 Zoom配信(後半)/Zoom distribution (Second half)
Division:Research Institute of Green Science and Technology
This inter-university cooperation symposium among Shizuoka prefecture's three universities was held by the University of Shizuoka, Hamamatsu University School of Medicine, and Research Institute of Green Science and Technology of Shizuoka University on November 17th, 2020.
Continuing from last year, three universities in Shizuoka Prefecture took the initiative and joined under the theme of "Sharing collaborative research from Shizuoka with the world!". Researchers from universities, public institutions, and companies in Shizuoka Prefecture were held to deepen various research collaborations, including exchanges between different fields.
This year's symposium was distributed online using Zoom to prevent corona infection. It began with an opening speech by President Hiroshi Kito of the University of Shizuoka and talks on research contents by six lecturers from three universities. After a question-and-answer session by the participants, the symposium was finally closed with remarks from the Dean of the Faculty of Pharmaceutical Sciences,
Professor Kei Manabe, the University of Shizuoka.。
This symposium was held for the second time, and this year was sponsored by the University of Shizuoka, with 78 participants including faculty members, students, and companies.。
Although the information exchange meeting was not held after the symposium this year, we were able to deepen the collaborations between each University further, and the three Universities will continue to cooperate in the future. We are expecting this symposium to promote collaboration with various industries and University researchers.
For details of the symposium, video data is distributed on the website of Shizuoka University Television. Please visit the following website.
【Shizuoka University Television】 https://sutv.shizuoka.ac.jp/subchannel/161
※Please vist from the link at the bottom right of the pag